An introduction to Milka
Milka chocolates are some of the best exotic chocolates in the world. They are made from high quality cocoa beans and have a rich, creamy flavor that is loved by chocolate lovers and exotic snacks lovers all over the world!
Milka chocolates are popular for their rich, creamy flavor and high quality cocoa beans. Chocolate lovers all over the world enjoy these delicious exotic treats! Milka chocolate was first created in 1901 by Swiss confectioner Philippe Suchard. Suchard used only the finest ingredients to create his chocolates, and this commitment to quality has continued throughout the history of the company.
Their commitment to quality has always been one of the key aspects that sets them apart from other chocolate brands. This commitment has resulted in some of the best tasting chocolate in the world! Milka has a long and rich history, dating back over 100 years. Since it's inception, Milka has been constantly innovating and expanding its range of products. Today, it's is one of the most popular chocolate brands in the world.
Milka's history is full of milestones. Inventing the first Alpine Milk Chocolate in 1925 was a major achievement, and Milka has continued to innovate ever since. Some other notable milestones include:
- Launching the first chocolate bar with Swiss milk chocolate in 1936
- Creating the iconic Milka Cow character in 1963
- Introducing Tenderly Yours, the world's first heart-shaped alpine milk chocolate, in 2002
The making of Milka chocolates:
Milka chocolates are made from a blend of two different types of cocoa beans, Trinitario and Criollo. These beans are sourced from all over the world, including South America, Africa, and Asia. The beans are roasted and ground into a fine powder before being combined with milk and sugar to create the unique Milka flavor.
During the manufacturing process, Milka chocolates go through a rigorous quality control process to ensure that they meet the high standards set by the company. This attention to detail ensures that every chocolate bar is of the highest quality and has the signature creamy flavor that chocolate lovers all over the world have come to know and love!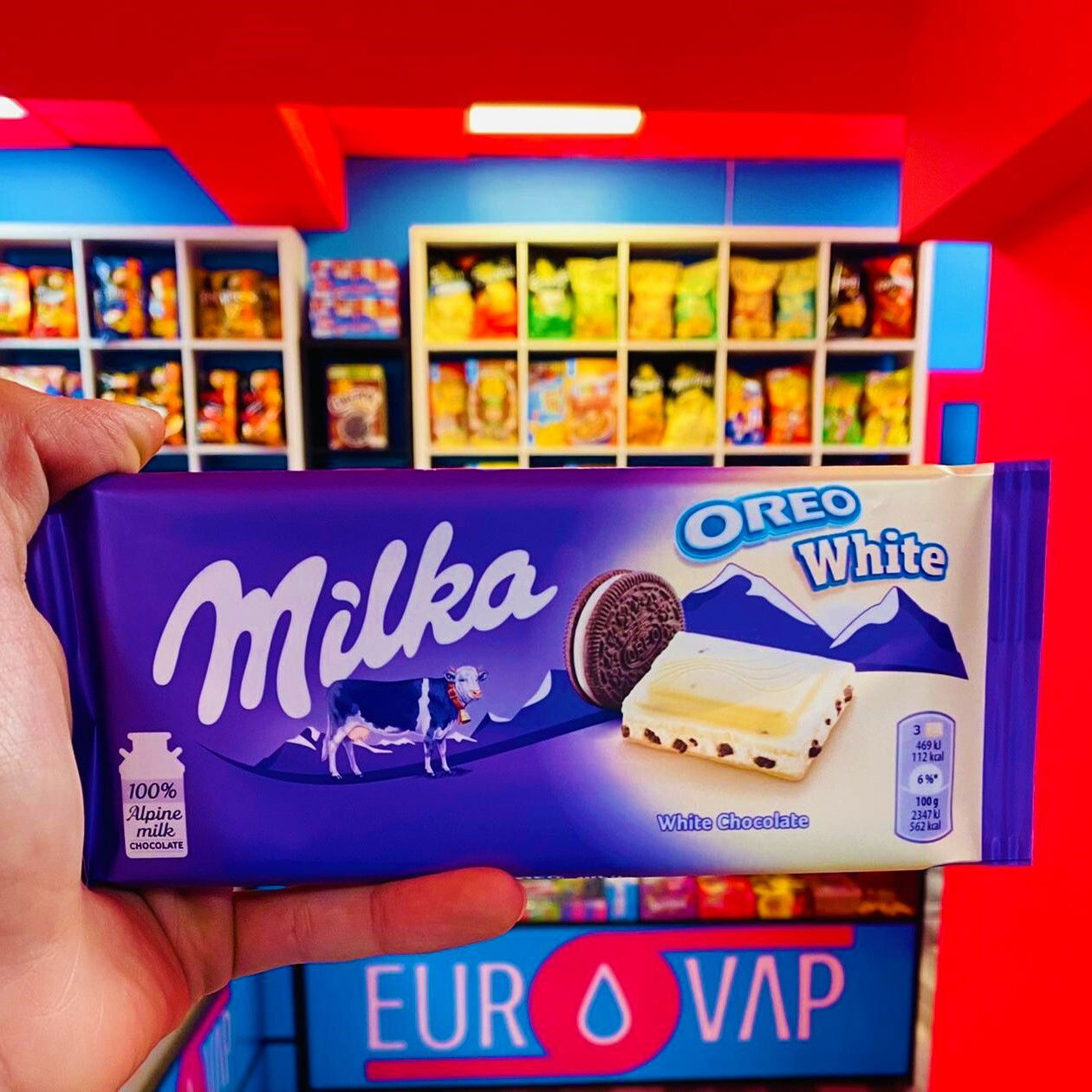 Why Milka chocolates are so good:
The high quality of the cocoa beans used to make Milka chocolates is one of the main reasons why they taste so awesome. In addition, the milk used in Milka chocolate is also of a high quality, which contributes to the rich "full creamy" feeling when you take a bite.
Fun fact: Milk used in Milka chocolate comes from local Vaud cows and is known for its unique creamy texture and flavor. This milk is then combined with the cocoa powder to create a truely exotic, tasty and delicious chocolate.
Milka chocolates are consistently our best sellers: At Eurovap, we pride ourselves on offering our customers only the highest quality exotic exotic snacks and chocolates. And our customers agree – Milka chocolates are consistently our best sellers!
If you're looking for the best Swiss chocolate, look no further than Milka! Made from premium ingredients and with a rich flavor that will leave you wanting more, Milka chocolate is the perfect choice for when you want to indulge in high quality chocolate without guilt or remorse!
In conclusion, Milka chocolate is truly some of the best chocolate in the world. Thanks to both its high quality ingredients and commitment to excellence, Milka delivers a delicious taste that is enjoyed by chocolate lovers worldwide. So next time you're looking for a snack that's not only delicious but also healthy (well, sorta - cocoa has antioxydants!), think Milka!
Where to find Milka chocolates in the Greater Montreal Area
You can pass by our exotic snacks stores located in Laval, Montreal, Terrebonne, Beloeil & St-Eustache to grab one of those mouth-watering exotic chocolates, as well as a huge variety of other exotic snacks, exotic sodas, chips, candy, cookies and tons of other rare drinks and desserts! It's always a pleasure for us to make people discover a world of new flavors.